Week ends well for EU stocks, Oil, BTC back to $30,000
EU markets open on a positive note
European stock markets are entering a dreadful date (Friday the 13th) with a positive note as they opened higher, despite a volatile session on Wall Street Thursday that ended in a bearish close.
London's FTSE 100 futures rose by 0.72% this morning with Germany's DAX futures contract following at 0.54% and France's CAC 40 futures growing by 0.82%.
The pan-European STOXX 600 futures were surging by about 1%.
US stocks closed lower on Thursday with NASDAQ 100 down by 0.18% closing at $11,945.50, the S&P 500 losing 0.13% closing at $3,903.95 and the Dow Jones Industrial Average (DJI) falling by 0.33% to close below the $32,000 value.
Oil gains momentum, OPEC lowers global oil demand forecast
Oil prices were bullish Friday morning despite being headed for their first weekly losses in three weeks as concerns about inflation, COVID-19 lockdowns in China and EU bans on Russian oil imports remained high.
Brent Crude futures were up by 1.24% Friday morning valued at $108.57 a barrel with West Texas Intermediate (WTI) following at 1.03% gains costing $107.16 a barrel.
The Organisation of the Petroleum Exporting Countries (OPEC) on Thursday lowered its forecast for growth in global oil demand in 2022 for the second consecutive month. According to its monthly report, OPEC noted that global oil demand would rise by 3.36 million barrels per day (bpd) in 2022, down 310,000 bpd from its previous forecast.
However, the organisation still expects global consumption to exceed 100 million bpd in the third quarter of 2022.
Gold stays bearish, other precious metals rise
Gold futures were down 0.18% Friday morning as bullion was set for a 3.2% weekly drop, its largest in two months.
Other precious metals, however, were on the rise with platinum futures up 0.84%, palladium futures surging by 2.85% and silver rising by 0.18%.
Powell says "soft landing" on inflation is hard to achieve
Federal Reserve chair Jerome Powell said on Thursday that it will be difficult to guarantee a "soft landing" on inflation.
"A soft landing is, is really just getting back to 2% inflation while keeping the labor market strong. And it's quite challenging to accomplish that right now, for a couple of reasons," Powell said in an interview with Marketplace.
According to the central bank chief, the levels between labour demand and supply must be equalled out in order for inflation to be pushed back to minimum levels. This "will be challenging," Powell noted.
"Nonetheless, we think there are pathways … for us to get there."
Yearly inflation in Russia up to 17.6%
Russia's Central Bank published gross domestic product data for the first quarter of 2022 showing that inflation in the country rose to 17.6% in April and had the potential to reach 23% highest by the end of 2022.
In addition, the country's Central Bank cut interest rates to 14% last month from the previous 17%.
Deutsche Telekom stocks up 2.5% Friday as quarterly results beat estimates
The German telecommunications firm Deutsche Telekom released its financial results for the first quarter of 2022 on Friday noting a revenue surpassing consensus estimates which were lifted by the firm's US unit T-Mobile and an increase in its European businesses.
The company's earnings before tax came up at € 9.87 billion (around $10.26 billion), surpassing the previous consensus estimate of €9.55 billion.
In addition, Deutsche Telekom's Q1 revenue increase by 6.2% to €28 billion, up from around €26 billion in Q1 2021 and surpassing the consensus estimate of €27.87 billion.
Following positive results, the company's stocks, trading under the symbol DTEGY were up 2.5% in early trading hours on Friday morning.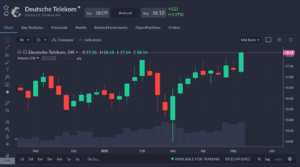 LUNA collapses by nearly 100%, BTC back to $30,000
Luck is not following the LUNA cryptocurrency this Friday, as it lost 99.9% of its value down to levels below the $0.00006 mark from its previous $81 highs earlier this week.
The cryptocurrency, which is the sister token of the TerraUSD (UST) stablecoin, has been rapidly declining since 9 May, triggered by UST's fast fall. Stablecoins, as the name suggests, are meant to be stable in a 1:1 ratio holding to external currencies, oftentimes the US dollar. UST, however, is an algorithmic stablecoin which is mainly backed by LUNA and bitcoin (BTC).
Recent negative market sentiment, which saw BTC decline to $26,000 from previous $30,000 highs as well as high-volume withdrawals of UST from Terra's Anchor Protocol, saw the value of LUNA falter.
On Wednesday, the popular crypto exchange platform Binance temporarily suspended LUNA withdrawals and said on Thursday that the "network is experiencing slowness and congestion" as people have been rushing to sell their tokens.
The US Treasury Secretary Janet Yellen noted recently that stablecoins pose a significant risk to financial stability adding that Congress is working on stablecoin legislation.
"[With stablecoins] we see run risks, which could threaten financial stability, risks associated with a payment system and its integrity and risks associated with increased concentration if stablecoins are issued by firms that already have substantial market power … We definitely see a significant risk," she said.
BTC, which fell to the $26,000 levels earlier this week is on a bullish track early Friday morning, up over 13% from previous lows.
Ether (ETH), the second highest cryptocurrency by market capitalisation, is also up 13.9% this morning. BNB was valued nearly 30% higher.
Note, cryptocurrency CFD trading is restricted in the UK for all retail clients.