Stocks fall, Bitcoin hits fresh lows, spec tech wreckage
Relentless…stock markets continue to march lower, and the generals are now being shot: Apple declined 5% yesterday and is off 20% YTD, allowing Aramco to overtake it as the world's most valuable company – something symbolic in tech being overtaken by oil. The Nasdaq fell another 3%, the S&P 500 by more than 1.6% and futures look weak again this morning. 
European stock markets were down sharply after the losses on Wall Street and a very downbeat Asian session. The DAX, CAC and FTSE 100 all fell more than 2%, basic resources and travel & leisure among the hardest hit alongside tech and autos. Commodities have fallen too as recession fears stalk. Gold has held its 200-day SMA and is a little firmer this morning.
Many of the megacaps have seen enormous multiple compression and could start to look attractive on a fundamental basis…however there is this steamroller of a bear market in the way and a sell the rally mentality that means the path to glory is littered with downdrafts. Vix doesn't budge much – grinding lower does not require investors to pay for downside protection. For the S&P 500, most think the big support area sits in the 3,800-3,900 range…3,800 is the 38.2% retracement area and think this is where the bulls stage a fight as that's when things start to look very oversold…risk is the slow grind lower of the bear market, the exact momentum we saw in the bull market but in reverse. The worry is that the megacaps get dragged down and down – they need to recover to lead the market.
Speculative tech is a wreck: ARKK flushed 10% lower yesterday to under $37 and is now close to returning to its longer-term trend line. Yesterday's 26% plunge in Coinbase, a 5% holding in the fund, sent ARKK close to its pandemic low. Nevertheless, Cathie kept doubling down and bought half a million COIN shares on the dip. The inveterate gambler's mentality to Martingale all the way to oblivion is clear. It simply doesn't make sense. ARK, and the flagship Innovation fund, are the epicentre of the market collapse- the collapse in the bloated valuations of loss-making technology stocks that had been pumped up by a flood of free money. Number one holding Tesla declined another 8% to $734, almost 40% lower for the year. 
Microstrategy edges closer to oblivion with the price of Bitcoin plummeting. Shares fell another 25% and are down 70% YTD. Its big bet on Bitcoin is looking very shaky as prices sit around $26k,, having taken another big hit in the last few hours. That's well below the roughly $30k average paid and not far from the $21k level at which the CFO recently told investors would trigger a margin call. There is a definite whiff of panic in the crypto space right now amid the stablecoin collapse…the great pyramid is exposed. 
Disney shares fell in after-hours trading despite good subscriber growth at its streaming service. The company added almost 8mn subscribers to its Disney+ service, ahead of the roughly 5mn expected, and doubled revenues at theme parks. But the CFO warned on the earnings call that growth in subs might slow, whilst earnings per share came in a little light at $1.08 vs the $1.19 expected.  
Yields are down too but offering no real respite for stocks. US 10yr rates fell to 2.83% as investors sought shelter in bonds and priced for greater recession risk. Yesterday's hotter-than-expected US inflation reading sent the 10yr north of 3%, so it's been a sharp reversal in the bond market since. USD has held up and the dollar index is posting gains north of 104 again, nudging up to a new high. 
ECB boss Christine Lagarde let markets know the central bank will likely raise rates this summer. Speaking in Slovenia, she said asset purchases would wrap up early in the third quarter and  "the first rate hike … will take place some time after the end of net asset purchases…(and) this could mean a period of only a few weeks". Not much relief for the euro however, which is sharply lower this morning against the dollar as USD catches a strong bid on the risk-off tone to the session.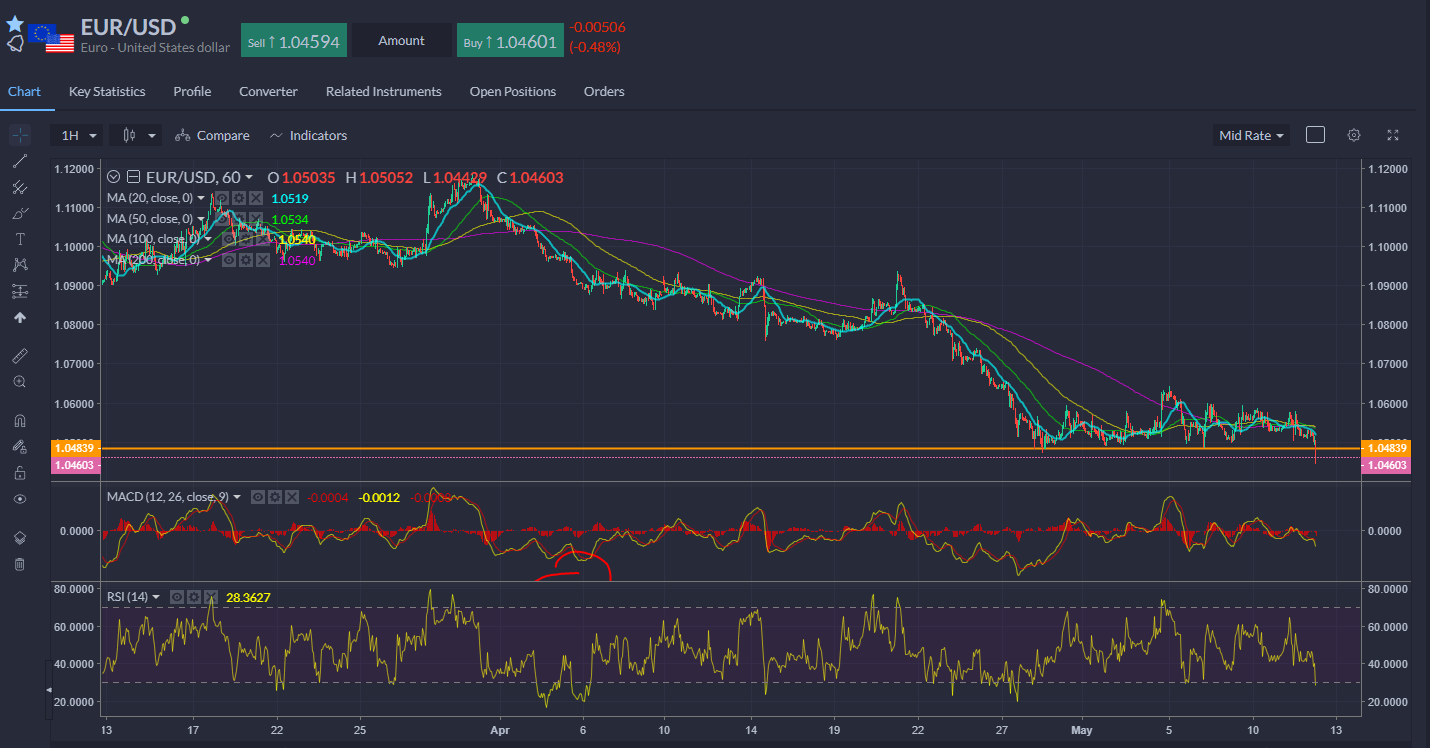 Cable was also making a new two-year low this morning. Sterling weakness can be attributed to dollar strength, but the GDP figures are not helping. The UK economy unexpectedly contracted 0.1% in March. GBPUSD retreated further to take a 1.21 handle in early trading. Bearish technicals were clear with a classic bear flag setup.